Vessel Areas
Swimming Pool Coatings
Chemco's swimming pool coating system comprises two products offering an innovative solvent-free, wet & rust tolerant solution.
Chemco also offer a solvent-free, wet tolerant coating system specifically designed for underwater tile repair.
System 1:
Solvent-free
Wet & rust tolerant
Quick and easy refurbishment (no disruption to vessel operations)
Significantly reduced H&S and Fire Hazard
No grit blasting requirements
No humidity or dew point restrictions
No re-coating limitations
Smooth, seamless and aesthetically-pleasing finish
Troublesome tile-based systems can be replaced with ease
Exceptional chlorine resistance
Long-term maintenance-free performance
System 2:
• Solvent-free
• Little/no product dispersion during application
• Very smooth, paint-like finish
• Very easy to apply, requiring very little surface preparation
• No specialist training or equipment requirements
• Can withstand physical stresses caused by wave action
• Huge cost reductions as pool does not require to be
emptied
• Available in all colours
SOLUTION
Solvent-Free, Wet & Rust Tolerant System
RS 500P is a solvent-free, wet & rust tolerant primer epoxy coating. The system's long-term performance is based on completely sealing the surface (porous-free film) and arresting the rust totally.
RA 500M is a solvent-free, wet tolerant and highly chemical resistant glassflake epoxy single/topcoat.
RS 500P and RA 500M combine to make a multi-functional, groundbreaking coating system which is perfectly suited to swimming pools.
SOLUTIONS
Underwater Repair System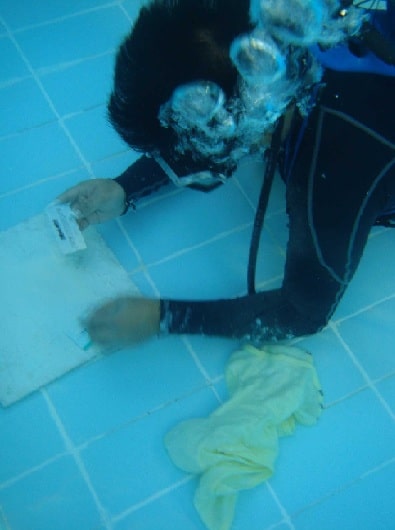 Pool-fix™ is a solvent-free, wet tolerant coating system specifically designed for the repair of underwater areas.
It is especially effective for application in ceramic tiles within swimming pools and is ideal for carrying out repairs without the requirement to empty the pool.
This coating system is available in 2 versions: