Vessel Areas
Chemical Cargo Tank Linings
Chemco offer three chemical cargo tank lining coating systems specifically designed for application within chemical tankers, covering the full pH range from 1-14.
Solution 1:
Solvent-free
Wet & rust tolerant
Reduced H&S and Fire Hazard
Excellent resistance to general chemicals
Major cost savings (reduced labour, surface preparation and equipment cost)
No humidity or dew point restrictions
Compatible with all epoxy shop primers and existing tank linings
Solution 2:
Solvent-free
Any surface preparation method can be utilised;
abrasive blasting, water jetting or mechanical
Excellent chemical and high temperature resistance
Reduced H&S and Fire Hazard
Reduced overall project cost and downtime
Environmentally friendly system
Solution 3:
Excellent resistance to aggressive chemicals and high temperatures
Ideal tank lining system for multi-purpose chemical storage vessels
Excellent resistance to thermal ageing, severe corrosive and abrasive environments
Full pH protection (1 – 14)
Maintenance-free and easy to repair
Fast curing allowing quick overcoating, fast application and quick back-in-service times
SOLUTION 1
Solvent-Free, Wet & Rust Tolerant System
RS 500P is a solvent-free, wet & rust tolerant primer or primer-finish epoxy coating system. The system's long-term performance is based on completely sealing the surface (porous-free film) and arresting the rust totally.
RA 500M is a solvent-free, wet tolerant and highly chemical resistant glassflake epoxy single/topcoat.
RS 500P and RA 500M combine to make a multi-functional, groundbreaking coating system which provides good resistance to general chemicals; crude oil, refined oil, saltwater and greywater.
SOLUTION 2
Solvent-free, Rust Tolerant, High Temperature Glassflake System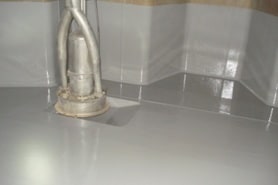 Epo-chem™ RE 500P and RW 500 form a solvent-free, rust tolerant, high temperature glassflake epoxy Novolac coating system.
This system offers excellent resistance to highly aggressive chemicals, such as ethanol, methanol and caustic soda.
SOLUTION 3
100% Solid Glassflake Vinylester System
RB 300 is a 100% solid, high quality, glassflake vinylester coating system.
It offers exceptional resistance to aggressive chemicals at high temperatures, acids and solvents.
Get more info on our
Products & Services…
Our coating specialists can suggest the right solution for your specific application.
Contact Our Specialist Coating Advisors…
Our coating specialists can suggest the right solution for your specific application.